RABI 19.2 LEAFY VEGETABLE (SPINACH) IN GROW BAG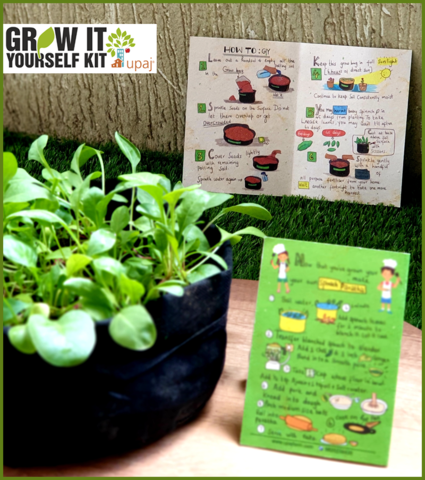 INSTRUCTIONS
Leave out a handful & empty all the potting soil in the grow bag. Now wet it.
Sprinkle seeds on the surface. Do not let them overlap or get overcrowded.
Cover seeds lightly with remaining potting soil. Sprinkle water again.
Keep this grow bag in full sunlight (6 hours of direct sun). Continue to keep soil consistently moist.
You may HARVEST baby spinach in 45 days from planting. TO take larger leaves, you may wait till after 60 days. Cut at base above soil surface with Scissors.
Sprinkle and gently work in a handful of all-purpose fertilizer from your home. Wait another fortnight to take one more harvest