RABI 19.1 VEGETABLE SAPLINGS IN A BIODEGRADABLE COIR SEED STARTUP TRAY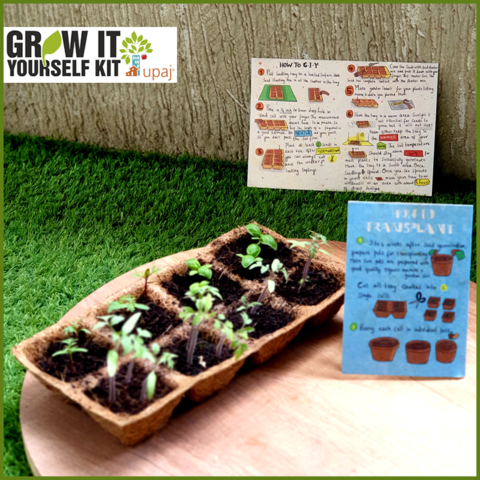 INSTRUCTIONS
Put the seedling tray on a leveled surface. Add seed starting mix in all the cavities in the tray.
Poke a 1⁄4inch or 5mm deep hole in each cell with your finger. The measurement doesn't have to be precise, so half the length of a fingernail is a good estimate. Be gentle as you press so you don't pack the soil firm.
Plant at least 2 seeds in each hole. After germination, you can always cut back the weaker looking saplings.
Cover the seeds with seed starter mix and press it down with your finger. This makes sure the seed has complete contact with the starter mix.
Make garden labels for your plants, listing name & date you planted them.
Store the tray in a warm area. Sunlight is not essential for seeds to grow, but it will not hurt them either. Keep the tray in the warmest area of your home. The soil temperature should stay above 65 °F (18 °C) for most plants to successfully germinate. Move the tray to a sunlit area once seedlings sprout Once you see sprouts in your cells, move your tray to a windowsill or an area with about 6 hours of indirect sunlight.