HOW TO GROW CHILLIES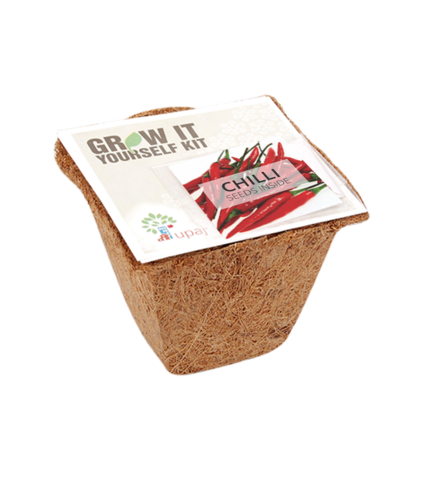 CHILLI GROWING FACTS:
Add some spice to your garden with our Chilli GIY Kits. Raw, fried, roasted in your tadkas or added to curries, this little spice is not only delicious but also rich in vitamins and minerals. They are easy to grow, low maintenance and drought tolerant.
 GIY KIT CONTENTS:
HOW TO PLANT: 
Unpack the kit. Use the coco peat coin to make growing medium (soil). Follow the steps:
Place the coco peat coin in a container and add 200 mls of water
Let the coin soak up all the water and watch it expand into growing medium
Put the growing medium in the GIY pot and level surface
Sow seeds about ¼ inch deep and 2 to 4 cms apart then cover them with growing medium. Keep the soil moist by spraying water daily.
GERMINATION AND TRANSPLANTING:
The sprouts should emerge within 10-14 days. 
Approximately 8 weeks after sowing, transplant seedlings into desirable pot or space. Before transplanting in a pot, pull the weakest seedlings out. Be careful not to disturb the roots of the remaining seedlings. 
Mix half the pot volume with good quality organic manure/ organic compost and half the volume with garden soil. Make sure prepared soil is loose, well-drained and rich in organic matter. It's a good idea to mix 5-20 gms of neem cake at the time of soil preparation; it will protect the young plants from soil-borne diseases and pests. Now dig in, place and bury the entire biodegradable pot with the healthy saplings.
WATER REQUIREMENT:
Keep the soil of your chilli plant moist for a healthy plant. You can check this by sticking your finger in an inch of soil. If it feels dry, its time to water.
FERTILIZER:
In order for your Chilli plant to grow well, it's important to provide the right nutrients. Every GIY kit contains organic micronutrients. Use them as per instructions. 
HARVESTING:
Your plant should start flowering within 35-45 days of planting and chillies should appear within 60-70 days of planting. 
Harvest chillies when they ripe to encourage your plant to produce more chillies. To harvest them, cut them off with scissors or a sharp knife.
INSECTS AND DISEASES:
Insects such as aphids, mites and thrips can affect your chilli plant. You can use a mixture of Neem Oil (2-3 ml) and water (1 lit.) and spray the plant weekly to avoid pests.
NUTIRITONAL VALUE:
Chillies are have a high nutrition value and are known to have disease preventing and health promoting properties. Chilies contain capsaicin, an alkaloid compound, which has shown to have anti-bacterial, anti-carcinogenic, anti-diabetic and pain relieving properties. Chillies are a rich source of vitamin C, vitamin A, potassium, manganese, iron and magnesium.