HOW TO GROW GOMPHRENA FLOWERS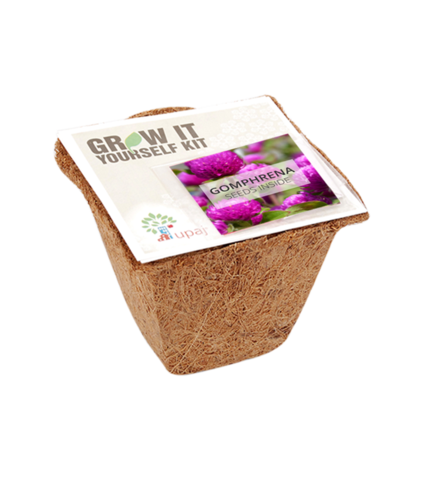 GOMPHRENA GROWING FACTS:
Gomphrenas are cheery Clover look alike flowers that for centuries have graced classic cutting gardens. The gomphrena flowers are globe-shaped blossoms with beautiful shades of lavender, purple, pink, red and magenta. Gomphrena makes a durable cut flower, and when dried, can last for years. They are easy to grow, low maintenance and tolerant to high temperatures.
GIY KIT CONTENTS:
HOW TO PLANT:
Unpack the kit. Use the coco peat coin to make growing medium (soil). Follow the steps:
Place the coco peat coin in a container and add 200 mls of water
Let the coin soak up all the water and watch it expand into growing medium
Put the growing medium in the GIY pot and level surface
Sow the seeds in the center of the pot, placing them on top of the medium. Do not cover the seeds. Use a spray bottle to mist over the top of the seeds. In order to speed up germination, you can soak the seeds for a day or two in water prior to sowing. 
GERMINATION:
Seed leaves should emerge within 15-20 days. Make sure that the soil stays moist throughout.
WATERING:
Check the soil once or twice each day for moisture loss. Water the pot to a depth of 1/2 inch when the surface of the soil becomes dry. Apply the water slowly to avoid washing the seeds from the pot's center or burying them under the soil.
Water twice a day in summer months to avoid drying out.
TRANSPLANTING:
Once the seedlings grow to around 3 inches, transplant them to a pot or open space. Before transplanting in a pot, pull the weakest seedlings out. Be careful not to disturb the roots of the remaining seedlings. 
A good container choice is about twice the foliage size with drainage holes in the bottom. To make a good potting soil mix for container gardening, mix half the volume of container with organic manure/organic compost and rest of the half with good quality garden soil. 
Sometimes Gomphrena plant can become a permanent garden resident by obligingly re-seeding itself.
FERTILIZER:
Potting soil mix made as per above recipe will provide good nutrition for Gomphrena plants. You can also use the organic micronutrients, available with your GIY kit, as per instructions.
FLOWERING:
Gomphrena plant will flower in 40 - 60 days of planting. It will grow 2 - 4 feet tall. They can handle some partial shade but may not flower as profusely as in full sunlight.
Remove dead/faded flowers from the plant regularly to promote regular bloom and maintain plant's look.
INSECTS AND DISEASES:
Gomphrenas saplings should be checked at regular intervals to ensure it is not infected by any weed/pest or insect and if you find any such thing on the leaves or in soil then you may spray organic Pestisides on it.
FUN FACTS:
Each Gomphrena plant can produce dozens of showy flower heads displaying a serene view. Gomphrenas make durable cut flowers and, when dried, can literally last for years.
This sun-loving plant attracts a variety of butterflies to your home garden— a perfect mix to brighten up your landscape effortlessly.