HOW TO GROW COSMOS FLOWERS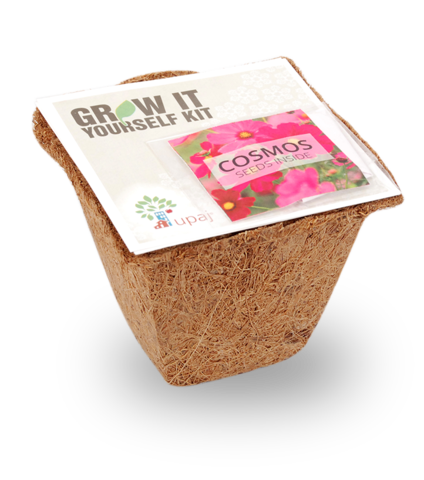 COSMOS FLOWERS GROWING FACTS:
Cosmos are beautiful, daisy like flowers that are easy to grow and add colour to your garden. Cosmos are great as garden border plants and attract birds, bees and butterflies to your garden. They can be used for flower arrangements, offerings and as decorations.
GIY KIT CONTENTS:
HOW TO PLANT:
Unpack the kit. Use the coco peat coin to make growing medium (soil). Follow the steps:
Place the coco peat coin in a container and add 200 mls of water
Let the coin soak up all the water and watch it expand into growing medium
Put the growing medium in the GIY pot and level surface
Sow seeds in the center of the pot, placing them on top of the medium. Do not cover the seeds. Use a spray bottle to mist over the top of the seeds.
GERMINATION:
The sprouts should emerge within 5-21 days. Make sure that the growing medium stays moist. When seedlings have 3-5 leaves and reach 3-4 inches tall, transplant the seedlings into desirable pot or space.
WATER REQUIREMENT:
Water regularly, but make sure you don't over water. Over watering and over fertilization can lead to plants with fewer flowers. Cosmos are very hardy and can tolerate dry soil even in a hot, sunbaked spot.
TRANSPLANTING:
Cosmos seedlings grow fast, so transplant them into 5 inch pots as soon as they are 3-4 inches tall.
FERTILIZER:
In order for plants to grow well, it's important to provide the right nutrients. Every GIY kit contains organic micronutrients. Add 1 teaspoon of organic micronutrients, provided in the GIY kit, as instructed on the packets, after sprouts first appear for a healthy plant growth.
FLOWERING:
Cosmos flowers should bloom in 45 – 60 days of planting. You can cut the flowers anytime, but it's best to pick them right when the petals have opened. In order to prolong flowering, you should remove dead/faded flowers from the plant.
INSECTS AND DISEASES:
Cosmos are commonly attacked by aphids and sucking pests. You can use a mixture of Neem Oil (2-3 ml) and water (1 lit.) and spray the plant weekly to avoid diseases.
ENJOY COSMOS LONGER:
If you cut the blossoms along with their stems when they first bloom, they can last more than a week in water. Simply strip off the lower leaves and put them in a vase.