7 Simple Benefits of Microgreens That You Need to Know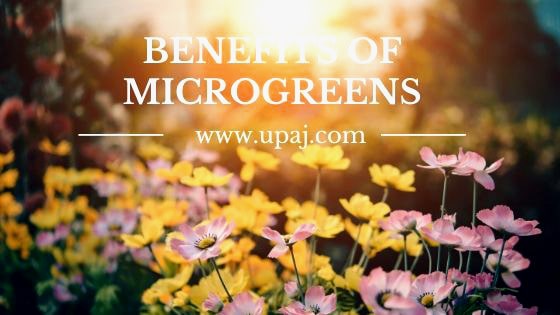 Ever thought of the benefits of microgreens before?
Did you ever notice the mini versions of spinach and broccoli on your fine dining menu? Before you label them as sprouts, try to recall if they included a crunchy seed?
Those little greens were not baby greens either. They were, in fact, a version of plants that are in-between sprouts and baby greens. So, now say hello to microgreens.   
What Are Microgreens
As their name suggests, microgreens are mini versions of green vegetables. Though they are neither sprouts nor baby greens. 
In technical terms, they are the greens harvested after the cotyledon leaves develop. Cotyledons are the first leaves that develop from the germinating seed.
The presence of germinating seeds in microgreens is similar to sprouts. But there are a few dissimilarities between the two. 
Sprouts include the entire stem and seeds. While microgreens have stem and leaves as the edible portions minus the seeds.
When compared to baby greens. Microgreens are a much smaller version. In terms of appearance, microgreens can be the miniature versions of baby greens.
7 Unique Benefits of Microgreens That You Need to Know
1.     Concentrated Source of Nutrition
Do not let the small size of microgreens underestimate their nutritional value. They are a powerhouse of essential vitamins and minerals. Specific nutrient count differs as per the microgreen crop sown. But most of them provide C, B-complex vitamins and antioxidants. 
Moreover, If you grow them in your own house. Then, there is no risk of harmful pesticides and other chemicals.  
Due to the size of microgreens. You get a concentrated source of food nutrients. So, they are a fresh source of multivitamins.
2.     Risk of Food Poisoning Is Low
Unlike the sprouts, microgreens do not require a lot of humidity to grow. Also, they do not even need soil as needed for baby greens or usual plants.
Microgreens can prosper on a growing medium like peat, and single-use growing mats. 
Because of these reasons, microgreens attribute low risk of foodborne illnesses. 
3.     Convenient to Grow
Growing microgreens is less cumbersome as compared to usual farming. If you get them from us. You will get high-quality seeds, potting containers, and a growing medium. 
As an alternate option, potting soil, homemade compost or even hydroponics works.
You should expose them to 10-12 hours of sunlight and spray water till leaves appear.
Different types of microgreens take a varying amount of days to bear leaves. On average, the sowing and harvesting cycle could take 15-21 days. Then, you can cut and harvest them with a pair of shears.
4.     Reduced Expenditure 
Growing microgreens does not cost a bomb. There is no need for a large land. If you have quality seeds, then, you will not need to fortify them with fertilizers. Furthermore, if you grow them on an appropriate medium. Then, you would not need insecticides or pesticides.
Moreover, due to their size. There is no requirement of fancy gardening tools. 
5.     Less Time Spent in Cooking
Exposing microgreens to heat will ensure the inhibition of susceptible infection causing elements. But it is not mandatory to cook them. 
This is the advantage of microgreens vis-a-vis sprouts and other greens. You can cut and eat fresh microgreens. The minimum efforts could be washing them under running water.
They are palatable and flavorful even without cooking. This makes microgreens easy to include in your routine. There is no time spent in cooking or in preparing them before cooking. 
6.     Improved Gut Health
Since the stems constitute the edible portion of microgreens along with the leaves. Thus, eating microgreens adds to the bulk in your diet. 
If you eat fresh microgreens. Then, the enzymes in microgreens add to the prebiotics in the intestine. Hence, they lead to holistic health. 
7.     Versatile in their Use
There is a lot that you can do with microgreens. You can make green smoothies and dips. You can use them as a garnish on soups and gravies.
You can include them in salad bowls. Tough the best way is to eat them fresh in an instant after plucking them.
Now you know why to grow microgreens. So, next comes ------>
How to Grow Microgreens Indoors
The use of microgreens in farm-to-fork restaurants touts them as expensive ingredients. But they are inexpensive when grown at home.
You would need the following supplies to grow them:
A tray or a pot

A growing medium - cocopeat, soil, growing mat

High-quality microgreen seeds
Instead, of buying the above supplies, you can also buy our microgreens kit. The kit includes detailed instructions to grow the microgreens.
Once, you have gathered the supplies. Then, you need to do the following:
Place your growing medium on the tray/pot.

Distribute the seeds on the medium. Place them apart from each other so that they have enough space to grow.

Then, spray water on the seeds.

Place the tray outside or on your windowsill.  

Keep spraying water on the seeds till you cut them.
List of Microgreens That You Can Grow
As mentioned above, it is easy to grow microgreens. You can grow them even in the smallest of places.  
All you need is some space under Sunlight and putting in the efforts to water them.
If you can manage the above two. Then, you can enjoy the benefits of growing and consuming the microgreens.
A few popular microgreens are:
Amaranth

Fenugreek

Dill

Alfa Alfa

Kale

Spinach

Radish

Mustard

Lettuce

Brussels Sprouts 
In Conclusion
The benefits of microgreens are plenty. From being a solid source of nutrients to their ease in growing. They are a boon to mankind.
They are a convenient means to grow and eat food. If you can tend them for a few minutes each day. Then, growing microgreens can be a fruitful hobby.  
They can stay on your kitchen window or your balcony. Also, you can rotate them as per their seasonal availability. That way you will get to have a year-long supply of nutrient-rich greens. 
Have you tried growing microgreens? Which ones are your favorite?
comments ( 1 )