11 Fascinating Farm to Table Restaurants in the World You Need to Know About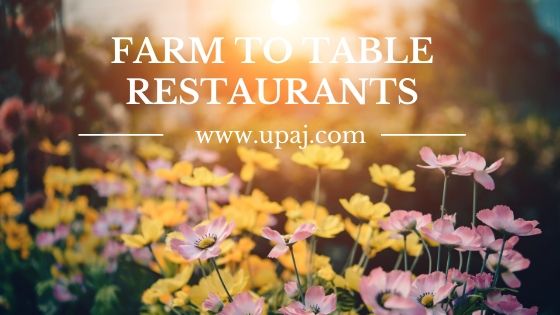 The concept of Farm to table restaurants has intrigued me for a long time. 
That is because back then I could not understand what was so special about the farm to table movement. Come to think of it, isn't food supposed to come from farms? That is the kind of logic my novice mind had when I was unaware of the various dubious farming methods.
Though with time I developed an intimate relationship with my food. That got me closer to understanding how the various factors affected agriculture. 
Hazardous chemicals in the form of pesticides and fertilizers destroy the crops. Growing plants and vegetables on a leached soil affected their quality. Moreover, they also impact agriculture land and nature as well.  
It was fortunate that now the World is aware of the damage from the regular farming practices. That is how organic and sustainable farming has come into play.
Growing food with natural methods has its own merits. One of them is that the food is tastier than what grows through usual farming methods.
To consume organic food, you need to find organic stores or farmers' markets. Though you should be sure of the authenticity of products available with them.
Apart from buying certified raw organic food. There are 2 other options to consume genuine organic food. The 2 popular options are :
Grow Organic Food Yourself

Dine at an Eatery That Serves Organic Food
Most of us will find it difficult to stick to the first option. Also, exercising that option requires some passion and commitment. Thus, it cannot work in an instant.
But with the second option, you can enjoy organic food without working hard for it. 
Thanks to the awareness about eating healthy, there are a lot of farm to table restaurants in the world.
Read further to know if you are around any such restaurants as listed below: 
11 Best Farm to Table Restaurants in the World You Need to Know About
1.     Sequel, Mumbai
You cannot expect sheer goodness in a crowded city like Mumbai. But it is fortunate that Vanika Choudhary changed that prejudice.
Her restaurant Sequel is the first well-known farm to table restaurant in the country. It brings organic food to a formal dining concept.
2.     Jim Adams Farm and Table, Atlanta
Jim Adams started his restaurant Jim Adams Farm and Table to offer healthy food. He is a big proponent of growing local food. It is one of the farm to table restaurants in Atlanta that has is own farm in an urban region.
3.     L'Antagoniste, Brooklyn
If you happen to be in New York, then you can visit this one. This is one of the French Cuisine farm to table restaurants in Brooklyn.
All its food is from local and seasonal ingredients. It partners with local farmers and fishermen to provide the best dining experience.
As its name suggests, the place takes pride in the French rebels showcased on its interiors. 
4.     Heirloom Restaurant, Charlotte
This one is the most popular farm to table restaurant in Charlotte, NC. 
This is an award-winning restaurant by the chef Clark Barlowe. It sources local ingredients and derives inspiration from every region of the World.
Along with the regular a-la-carte menu, they have a signature menu as well. 
The signature offering has a 6-course tasting menu that changes daily. Thus, you are bound to have a different experience every time you visit them.
5.     White Birch Restaurant
This one boasts of a unique and delicious dining experience in northern New Jersey.
This restaurant is famous for creating a playful twist on classic dishes.
They adhere to the farm-to-fork concept. That is why they work with local purveyors and use seasonal ingredients.
It is interesting to note that they are a BYOB restaurant. That adds to the reasons for not missing out on this one.
6.     The Farm Table at Kringle Candle
This one is one of the famous farm to table restaurants in Bernardston, Massachusetts.
This restaurant is an upcycled version of an old farmhouse. 
Apart from serving organic local options, they also serve gluten-free options. Its rustic and open ambiance complements its unique food. 
7.     Outstanding in the Field, Worldwide
This one is different from every other restaurant in this list. Instead of having a stationary restaurant, this one is movable. 
The founder Jim Denevan started the concept of a traveling restaurant. They move to local farms with their team to provide a dining event. They believe in connecting culture with the local dining experience.
They collaborate with local farmers, and other suppliers to provide an immersive experience. 
This one for sure goes to my bucket list. I do wish that they come to India too.
8.     We are the Farm, Tokyo
Takuya wanted to change the stereotypes associated with farming. That is why he started his farm to fork restaurant in Tokyo. 
He takes a keen interest in studying organic farming. His restaurant is a testament to his beliefs. That is why they use all parts of the vegetables and waste nothing. Furthermore, they use wooden plates for serving.
9.     Open Farm Community, Singapore
This works as an open concept restaurant. Their restaurant is a part of their 35,000 sq. ft. of green land. 
It is one of its kind that collaborates local food producers with creative chefs. Sticking to the principles of sustainability and recycling is the norm here.
10.     Craft London, London
If you are a fan of the celebrity chef Stevie Parle. Then, you will have one more reason to dine at this one. 
They have a changing menu that evolves as per their produce. They grow vegetables on the Peninsula jetty. Also, they roast their coffee in-house, smoke fish in-house. That is not all. They also farm bees.\
11.     Solitude Farm Cafe, Auroville
Though the west made sustainable farming and eating local a trend. But the concept in its form has been prevalent in Auroville for a long time.
The Solitude farm cafe lives with the motto - honoring the gifts of Mother Nature.
Krishna McKenzie runs the entire show at the cafe. Since he is also the frontman of a band. Therefore, he came up with an idea of combining music and farming to bring LUYE. LUYE is an eco-music festival that stands for Lively Up Your Earth. It celebrates creativity through music, arts, and local food.
In Conclusion
In today's times, eating food that comes straight from the farms is a luxury. Doesn't that sound ironic?
Disrupted soil table and polluted water sources affect agriculture. The use of harmful fertilizers, insecticides, and pesticides further add to the destruction.
That is why the concept of growing organic food has come into prominence. Not all of us can enjoy the luxury of owning a kitchen garden. But sometimes we can drop into an eatery that prepares food from a local farm. 
This article lists a few such places that are popular for their farm to table concept. The selection of restaurants is not based on any gourmet criteria. Rather, it is as per our personal experiences and online sources as listed below.
Sources :