HOW TO GROW CORIANDER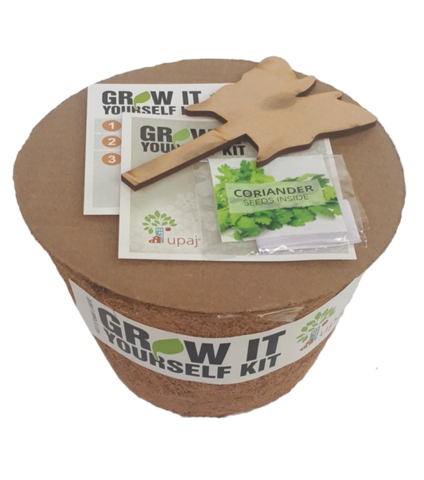 CORIANDER GROWING FACTS:
Coriander is a fast-growing, aromatic herb that is extensively used as a condiment, garnish, or decoration on culinary dishes. Its rich in nutrients, antioxidants and has great health benefits. This delicious herb is easy to grow in a container which makes it perfect for small spaces.
GIY KIT CONTENTS:
HOW TO PLANT:
Fill your pot with the given growing medium (soil mix).  Sow the seeds in light, well-drained soil and space them around 1-2 inches apart. Use a spray bottle to mist over the top of the seeds. 
GERMINATION:
The coriander sprouts should emerge within 7 - 10 days.
WATER REQUIREMENT:
Check the soil once or twice each day for moisture loss. Keep the soil moist at all times and don't let the plant dry out completely. It is important to keep the seeds moist for best germination rates, so remember to water the plants regularly.
TRANSPLANTING AND GROWTH:
When the seedlings start showing their true leaves and have 3-5 set of leaves, it is time to transplant. Transplant your entire biodegradable kit to a larger pot or open space.
Your coriander plant can grow up to 6-8 inches tall.
FERTILIZER:
In order for plants to grow well, it's important to provide the right nutrients. Every GIY kit contains organic micronutrients. Use them as per instructions.
HARVESTING:
In about 25 to 35 days, coriander shoots can be picked for use. When harvesting, use a sharp knife or scissors to cut the stems. Always snip off only one-third of the stems from each plant, allowing the rest of the plant to continue growing.  You can harvest coriander about once a week. Harvest the coriander greens until the plants start growing flowers. As the plant starts flowering, coriander acquires a bitter taste.
SEED COLLECTION:
For seed collection, let your plant go into the flowering stage, about 35-40 days after planting. The flowers will then form small green balls which will turn into seeds. Once they dry on the plant and turn brown, collect them by pinching them off of the plant. Regrow the seeds for more homegrown coriander.
Coriander Plant Flowering
Image Courtesy: http://theherbgardener.blogspot.in/

Coriander plant flowers turning into seeds
Image Courtesy: www.gardeningknowhow.com
NUTRITION VALUE:
Coriander leaves are particularly rich in vitamins A, C and K with a moderate content of dietary minerals and are used in treatment of skin inflammation, high cholesterol levels, diarrhoea and indigestion. Coriander is known for its antioxidant properties as well.
comments ( 1 )