HOW TO GROW BASIL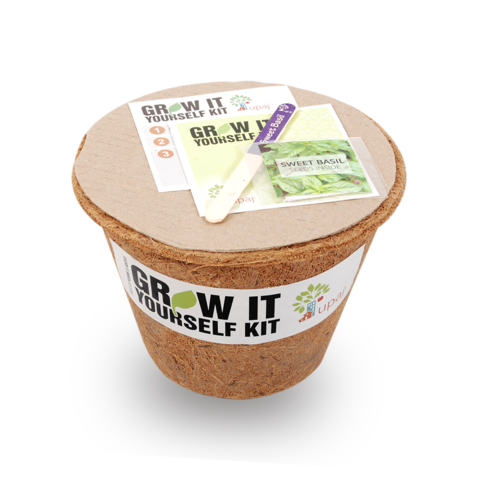 BASIL GROWING FACTS:


Grow Sweet Italian Basil, a fragrant, tasty herb, with our Basil GIY Kit.  Basil is one of the main ingredients in pesto sauces and Italian pastas. This delicious herb is easy to grow with our easy-to-follow instructions and adds a great smell and flavour to your garden. 
GIY KIT CONTENTS:
HOW TO PLANT:
Fill your pot with the given growing medium. Wet the soil with water to provide the right environment for seeds to germinate.
Plant seeds about ¼ inch deep and 2 to 4 cms apart then cover them with growing medium. Keep the soil moist by spraying water twice daily.
GERMINATION AND TRANSPLANTING:
The sprouts should emerge within 7-14 days. Make sure that the growing medium stays moist at all times.
When the seedlings have 3-5 leaves and reach 4 inches tall, transplant the entire kit into a desirable pot or ground. A good container choice is about twice the size of your biodegradable pot with drainage holes in the bottom. To make a good potting soil mix for container gardening, mix half the volume of container with organic manure/organic compost and rest of the half with good quality garden soil. 
Basil GIY Kit Day 45
WATER REQUIREMENT:
Keep the soil of basil plant moist for a healthy plant. You can check this by sticking your finger in an inch of soil. If it feels dry, its time to water.
FERTILIZER:
In order for plants to grow well, it's important to provide the right nutrients. Every GIY kit contains organic micronutrients. Use them as per instructions.
HARVESTING:
Start picking the basil leaves as soon as they are 6 – 8 inches by snipping off leaves at the top of the plant. Pick leaves regularly to encourage growth. You can store basil leaves by drying or freezing them.
INSECTS AND DISEASES:
Common diseases for basil are mildew, rot and damping off, which refers to the rotting of stem and root tissues at and below the soil surface. Avoid overwatering and check the pot drainage. You can also use a mixture of Neem Oil (2-3 mls) and water (1 ltr) and spray the plant weekly to avoid diseases.
Insects such as Aphids, Jassids, Thrips and White Fly can affect basil growth as well. The best way to control these pests is to remove them by hand. You can also use the Neem Oil mixture as mentioned above to prevent them.
NUTRITION VALUE:
Basil is considered one of the healthiest herbs. It is an excellent source of Vitamins A, C and K, manganese, copper, calcium, iron, folate, magnesium and omega-3 fatty acids.