HOW TO GROW ORNAMENTAL CHILLI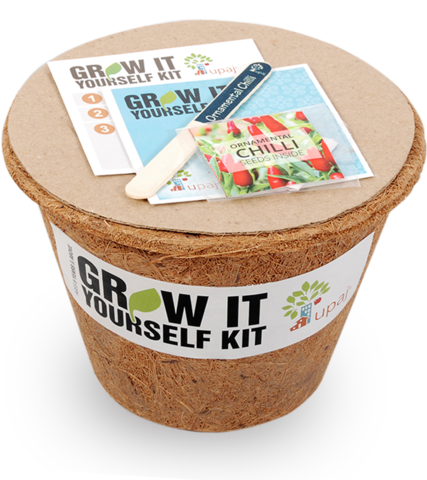 ORNAMENTAL CHILLI GROWING FACTS:


Ornamental Chilli is an outstanding ornamental plant with glossy green leaves and colourful fruits that stands in upright clusters at the end of the stems. The fruit comes in shades of red, purple, yellow and orange and it changes colours as they ripen, so you may see several different colours on the same plant.  They are easy to grow, low maintenance and tolerate high temperatures.


GIY KIT CONTENTS:
HOW TO PLANT:
Fill your pot with the given growing medium and level the surface. Wet the soil with water to provide the right environment for seeds to germinate.
Plant the seeds 1/4 inch deep and cover the seeds with soil. Water the seeds well and keep the soil moist until the seeds germinate. 
GERMINATION:
The sprouts should emerge within 7 -14 days. Make sure that the growing medium stays moist. 
WATER REQUIREMENT:
Check the soil once or twice daily for moisture loss. If it feels dry, its time to water. A healthy Ornamental Chilli plant needs water in a uniform manner, so that the soil does not dry up. Proper watering in the growing season encourages flower growth. If not watered well, the plant will have a weak produce.
Ornamental Chilli Plant Day 15
TRANSPLANTING AND GROWTH:
When seedlings grow second set of true leaves, transplant the biodegradable pot into a desired pot or open space. Evening time is preferred for transplanting.
Before transplanting, keep one healthy plant and remove others. At the base of the soil, cut the weakest seedlings out. Be careful not to disturb the roots of the healthy plant. This process is called plant thinning and its a great way to ensure healthy growth. 
Ornamental Chilli grows well in soil that loose, well- drained and rich in organic matter. It's a good idea to mix 5-10 gm of neem cake at the time of soil preparation; it will protect the young plants from soil-borne diseases and pests.
The plant can grow up to 1-1.5 feet tall.
FERTILIZER:
In order for your ornamental chilli plant to grow well, it's important to provide the right nutrients. Every GIY kit contains organic micronutrients. Use them as per instructions. You can use Neem based Bio-fertilizers and Bio-Pesticides if necessary.
FRUITING:
Your plant should start flowering within 35-45 days of planting and ornamental chillies should appear within 60-70 days of planting. Pinch the plant at the end of each stem to promote a bushier ornamental chilli plant. 
FUN FACTS:
The ornamental chillies produced by the plant are edible but they generally lack taste and are hotter than those of culinary pepper plants.
Ornamental chilli seedlings grow spindly, with a weak stalk, if there is insufficient light.