HOW TO GROW MARIGOLDS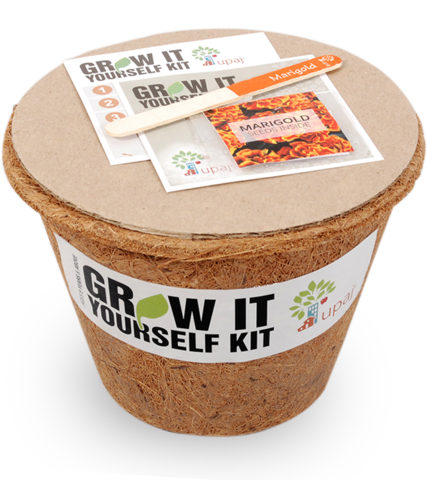 MARIGOLD GROWING FACTS:


Beautiful Marigolds are popular flowers in India used in auspicious occasions and for decoration purposes.  They are incredibly easy-going flowers and can tolerate a wide range of growing conditions. Once planted, marigolds grow rapidly with no fuss. Not only are they low maintenance, they  can actually protect your garden from pests.


GIY KIT CONTENTS:
HOW TO PLANT:


Unpack the kit. Fill your pot with the given growing medium (soil mix) and level the surface. Wet the growing medium with water to provide the right environment for seeds to germinate.
Sprinkle the seeds and cover with a thin layer of soil. Water well, place your pot in a warm place and keep damp.
GERMINATION:
The sprouts should emerge within 7-14 days. Make sure that the growing medium stays moist. 
WATER REQUIREMENT:
Water regularly, but make sure you don't over water. Check the soil once or twice each day for moisture loss. In summer months, you may have to water twice a day.
TIP: Water the plants in the morning so that the water fallen on the leaves can dry up.
TRANSPLANTING AND GROWTH:
When seedlings grow about 2 inches tall, transplant them into a desired pot or open space. 
Before transplanting, keep one healthy plant and remove others. At the base of the soil, cut the weakest seedlings out. Be careful not to disturb the roots of the healthy plant. This process is called plant thinning and its a great way to ensure healthy growth. 
If planting in a pot, make sure it has drainage holes. As far as soil quality is concerned, Marigolds are not very fussy, but they grow well in moderately fertile well-drained soil. 
Marigold plant can grow 1-2 feet tall. 
FLOWERING:
Marigolds start blooming in 45-60 days after planting. Remove dead/faded flowers from the plant regularly to promote regular bloom and maintain plant's look.
Sometimes this plant can become a permanent garden resident by obligingly re-seeding itself.
FERTILIZER:
Marigold is a hardy plant and does not require fertilizers if planted in a good soil. Excess fertilizing will encourage increased growth of leaves/foliage but less number of flowers. If needed, use Neem based Bio-Fertilizers and Bio-Pesticides. 
INSECTS AND DISEASES:
Insects and disease are usually not a problem for Marigold. In fact, the flower may be helpful for deterring many insect pests, making it a good companion plant for vegetable gardens.
FUN FACTS:
Marigolds love the sunshine. You can grow them in full sun but they also do well in partial shade. They don't do well in wet, damp conditions and may rot and die.
Marigold are great companion plants and help improve the growth of plants like tomatoes.